What should happen when a couple of students get into a fight? What if they're caught with a joint? What about shoplifting? When met with a juvenile who's made a poor choice, law enforcement has a decision to make. If arrested, a youth's future drastically changes – among other barriers, he or she becomes more likely to be arrested again and less likely to graduate high school. On the other hand, youthful misbehavior can be a signal of unmet needs or trauma or may demand consequences, so a warning is not always practical either.
There's another option in Florida – in most counties, the officer can write a civil citation sending the teen to a diversion program where many of the restorative and rehabilitative goals of the juvenile justice system can be met without the consequences of an arrest. It's cheaper and more effective than post-arrest diversion programs.
 
Pre-Arrest Diversion
Post-Arrest Diversion
Youth receive sanctions
Yes
Yes
Youth receive services
Yes
Yes
Arrest Record
No
Yes
Cost to youth

Service Fees
Fines

Service Fees
Fines
Court Costs
Cost to taxpayers
$385
$5,000
Percent who reoffend
4%
12%
So, what's the problem? This tool isn't available – or used – as often as it should be, given the evidence of its effectiveness. The Florida Legislature gave counties a lot of discretion in the design of pre-arrest diversion programs, so eligibility and usage varies greatly throughout the state.
What needs to happen? Circuits must reexamine their policies to increase civil citation usage and minimize disparities by location. Alternatively, the Florida Legislature has considered mandating uniformity among civil citation programs.
What can you do? Local voices are well-suited to advocate counties use their discretion to increase use of civil citations. The Keep Kids Learning campaign will support you in this effort!
---
---
State Sets Broad Requirements
Florida law requires local circuits to develop pre-arrest diversion programs. These are often called "Civil Citations." The programs are an alternative to a judicial hearing and aim to ensure youth are held accountable for their actions, receive any help they may need to get on a more successful path, and avoid the negative consequences of an arrest. The law directs the Florida Department of Juvenile Justice (DJJ) to help implement the programs and develop guidelines that include intervention services.
If youth do not complete the requirements of the diversion program, they may be arrested for the underlying offense.
Local Decision Makers Determine the Specifics
Local programs are created with the agreement of the state attorney, public defender, the clerk of courts for each county in the circuit, and the head of each participating law enforcement agency. Although the local school superintendent is not a required participant, he or she is usually consulted and is key in implementations in schools.
Because of this discretion, programs vary widely across the state, with youth facing drastically different consequences for the same behavior. Eligibility varies from county to county, and offenses deemed eligible by the DJJ, like those involving domestic violence, may not be eligible locally. Some counties only allow for one civil citation, while others allow for up to three.
---
Pre-arrest diversion programs, like civil citations, help avoid the labeling an arrest brings. Instead, the focus shifts to the restorative and rehabilitative goals of the juvenile justice system. Pre-arrest diversion programs effectively put theories developed by research into practice. This is confirmed by the fact that among juvenile justice tools, pre-arrest diversion programs consistently have the lowest rates of recidivism.
A pre-arrest diversion program, like civil citations:
Keeps youth that don't pose a harm to the community out of the juvenile justice system.
Reduces costs of processing youth for misdemeanors – A civil citation costs $386 versus $5,000 for an arrest.
Frees up limited resources to focus on more serious and violent offenders.
Has the potential to reduce racial disparities in arrest rates.
Kids don't get arrest records.
Reduces rates of reoffending (recidivism) to increase public safety and reduce long-term costs.
Youth deferred without an arrest reoffend at an average rate of 4 percent. The bulk of youth eligible for a civil citation, but arrested, receive post-arrest diversion, which has a recidivism rate of 12%.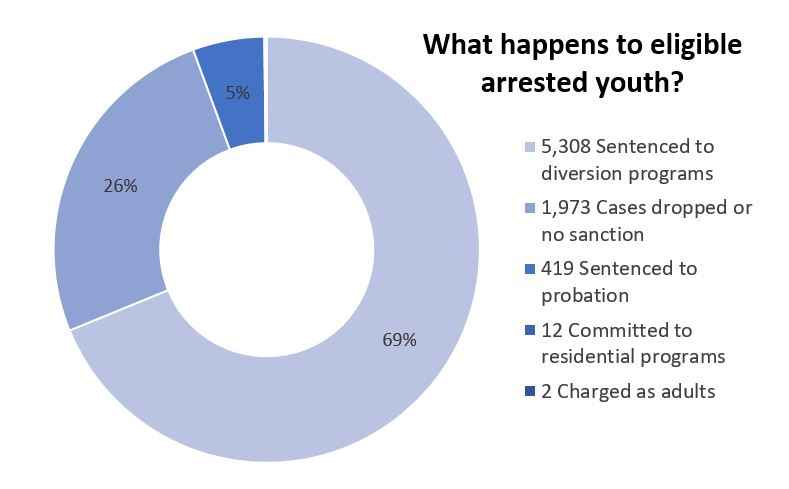 When youth who are eligible for civil citation are arrested, 69% of them end up in diversion programs – often the same programs they would have gone to had they received a civil citation. Another 26% see their cases dropped, are found not guilty or receive no sanction. All of these kids are burdened with an arrest record.
---