COVID-19 has heightened awareness about the importance of easy, equitable voting access. While many of the struggles facing election administrators during this public health crisis seem unprecedented, they each represent an opportunity to refine local policies and practices to ensure every Floridian has the opportunity to vote – and to have that vote count.
As Floridians, like the rest of the world, navigate living and working during a pandemic, a risk to our democracy has emerged – how will we vote?
In answering this dilemma, it is useful to ask, how have we voted? The reality is that voting access in Florida has long been inconsistent and inequitable. How easy it is to vote, and have your vote counted, has depended on your age, your race, where you live and how much free time you have. These factors will be exacerbated by the current public health crisis.
These inequities are not consistent with our core values, or with protection of the fundamental right to vote; every eligible American should have access to the ballot. Many of the solutions to improve voting access are not only possible in the current crisis – they are necessary.
As such, this report offers insight for supervisors of elections and their staff as they navigate administering elections in a public health crisis. It highlights where others can assist. For voters who want to push their local election officials to do the right thing, guides and one-page summaries are included.
This report presents background information and policy recommendations for establishing four pillars of equitable voting access: reliable and fair vote by mail, early voting access, equity in polling locations and access for all:
Date
Thursday, April 23, 2020 - 12:00pm
Featured image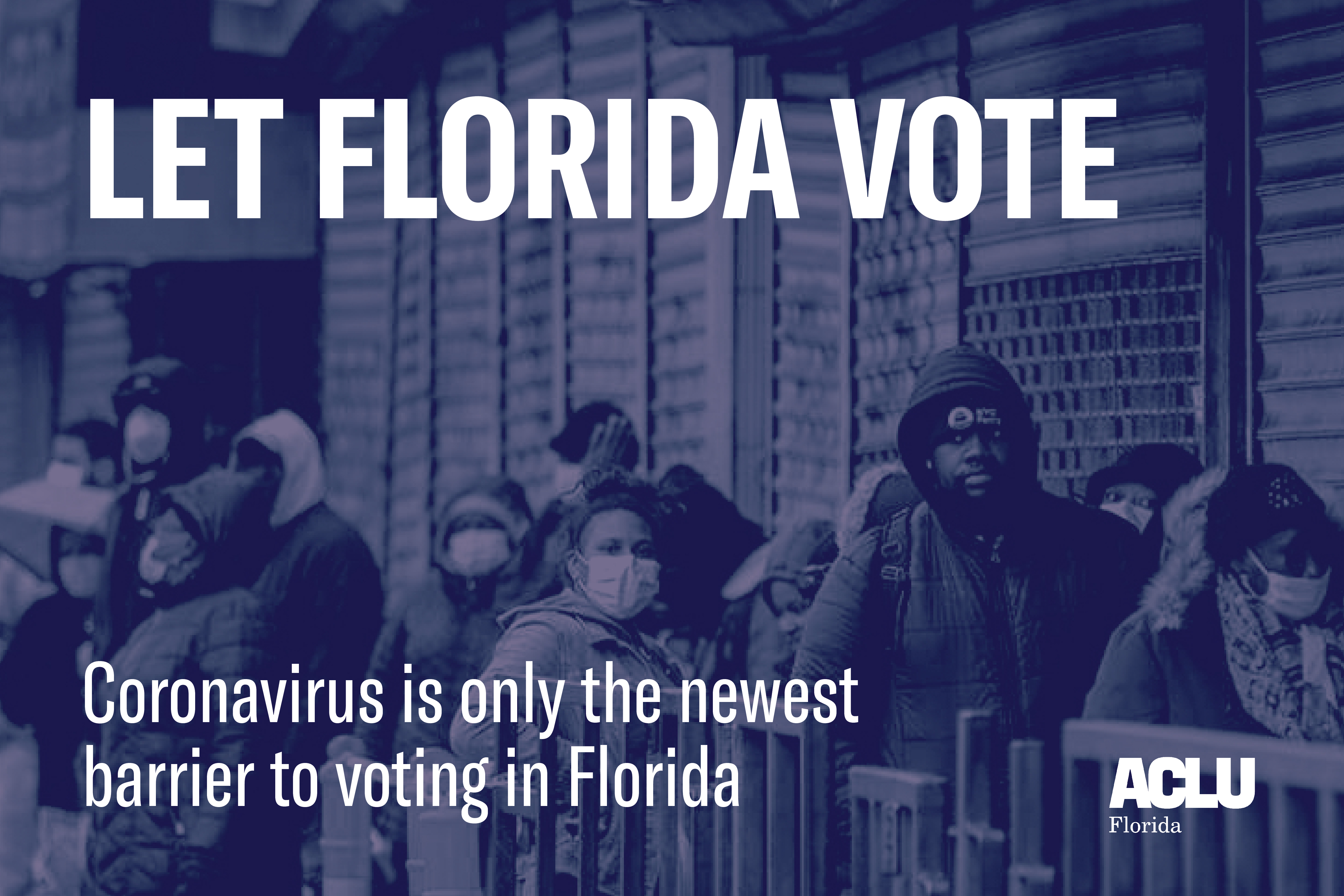 Show featured image
Hide banner image
Override site-wide featured action/member
Register or Update your Voter Information Online in Florida
Documents

ACLU of Florida Report - Let Florida Vote.pdf
Show related content
Pinned related content
Tweet Text
Share Image
Type
Menu parent dynamic listing
Show PDF in viewer on page
Style
Standard with sidebar